Housing Material Products
Technical Information
Open Joint Construction Method
ZEON Siding adopts the open joint construction method by which joint parts are affixed by overlapping. This method is a modern version of the traditional siding board method, which is most suitable to climates in Japan. No sealing materials are employed in this open joint construction method, assuring equal air pressure between the inside and outside of the exterior material and making it difficult for rainwater to seep into the inside from the outside of the exterior materials.
Water repellency
ZEON Siding uses vinyl chloride resin specially designed for exterior use. Synthetic resins including vinyl chloride resin are generally "water repellent". Other exterior materials are merely coated with a water repellent substance and will lose their water repellent property over time. In contrast, water repellency of ZEON Siding will not deteriorate with age because it is built right into its resin. Furthermore, the water repellent ZEON Siding does not produce capillary action. On the contrary, its water repellency forms water droplets that block moisture from seeping in and excludes the need for sealant.
Water Drop Test for Exterior Materials (Ceramic siding A and ZEON Siding B)
| | | | |
| --- | --- | --- | --- |
| Surface of ZEON Siding | At the beginning | In 5 minutes | In 10 minutes |
* Source: Technical information from the Resin Siding Promotion Committee.
Humidity control effect
ZEON Siding does not require any sealing material; however, the air pressure between the inside and outside of siding remains equal and rainwater does not, under normal circumstances, seep into the inside of the sidings as long as the base wall structure is airproof. In the event water does seep into the inside of the sidings, the open joint construction method without the use of sealing materials allows the water to drain out from the bottom of the body, immediately drying out the inside of the sidings.
Proof of waterproofing property and humidity control effect
* Staple pins used to affix waterproof sheets to the base of the resin siding have been used for 15 years without rusting.
* Source: Resin Siding Round-Table Discussion (Values are not guaranteed).
Weather resistance
ZEON Siding has a multilayer structure consisting of surface and base layers designed for weather resistance to prevent significant color deterioration and cracks over the years. As a result, ZEON products do not easily discolor to a large extent in strong summer sunshine, nor cause color heterogeneity including partial discoloration.
Weather resistance test for vinyl chloride siding (color difference)
Test method: Accelerating test with sunshine weather meters
Test location: Actual measurement at ZEON laboratory

●Compared with unused product, little difference is seen in physical properties.
Frost durability
ZEON Siding is durable against frost damage in mid winter. In experiments assuming –30°, while ceramic sidings cracked due to moisture seeping inside, ZEON Siding showed no damage. In snowy areas, metal type siding tends to dent due to pressure from accumulated snow and the damaged area sometimes becomes rusty. In contrast, ZEON Siding does not easily dent on the strength of its elasticity and never rusts.
* Frost damage is defined as cracks on the material due to expansion of frozen moisture seeping into the material when the temperature drops below zero.
Frost durability test
Devices used
:
Constant temperature and humidity bath
Test sample
:
400mm x siding width with notched portion
Test conditions
:
Siding immersed in water (25° x 24h) → Frozen (–30° x 24h)
* Procedure repeated 10 times
ZEON Siding and metal siding do not show any changes; but,ceramic siding shows cracks on the notched portion.
* Test results by ZEON laboratory
Chemical resistance
Chemical resistance tests of product performance against salt damage, acid rain, volcanic ash, corrosion from agrichemicals and smoke exhaust from factories showed that ZEON Siding was not affected by strong acid, alkali or salt, while the surface gloss of ceramic siding was lost due to sandblast caused by salt damage, and the surface of ceramic siding was damaged by sulfuric acid. The surface coating on metal siding suffered deterioration by sulfuric acid and caustic soda, and the surface was corroded by salt seeping in from the side surface.
Chemical resistance test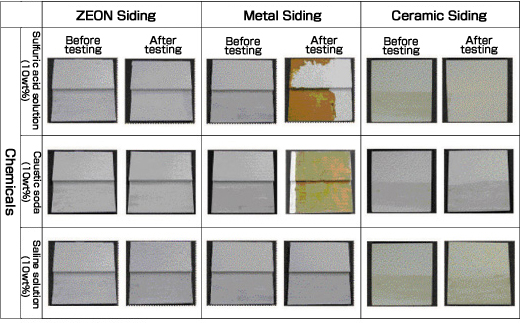 * Test results by ZEON laboratory
Impact resistance
ZEON Siding is produced by mixing many rubber particles and designed with a focus on impact resistance. Ceramic siding suffered cracks and metal siding received a large dent in impact tests utilizing a falling ball device, while ZEON Siding did not suffer considerable damage. However, at temperatures below zero, even a small impact may cause breakage of ZEON Siding depending on the type and manner of impact.
Impact test comparison with other resin sidings (Weight-Drop Test)
[Test condition] Striker load: 80kg/ Height of drop: 300mm/ At room temperature 23°
| | ZEON Siding (Royal) | Siding of Company A |
| --- | --- | --- |
| Crack initiation energy | 33.0 | 24.6 |
| Total absorption energy | 6.8 | 6.3 |
| Specific energy | 4.85 | 3.90 |
[Test results]
●Specific energy = Crack initiation energy/ Total absorption energy
●The smaller the specific energy, the more brittle the material.
(Once the material is cracked, it breaks immediately.)
* Actual measurement values by ZEON laboratory
Sample comparison after weight-drop test

ZEON Siding

Other companies' resin siding
* Test results by ZEON laboratory
Fire resistance/ Heat resistance
ZEON Siding made of vinyl chloride resin has low heat resistance. It is, therefore, necessary to take extra care in handling and installing the products, including providing enlarged holes for screws, assuming expansion and contraction of the material resulting from differences in temperature. In addition, vinyl chloride resin has a self-extinguishing property that allows it to burn along with the source of the fire. Once the source of the fire is extinguished, however, the resin also stops burning without spreading.
Gas generated during combustion consists of carbon dioxide, carbon monoxide and hydrogen chloride.
Vinyl chloride is a fire-retardant and it seldom catches fire.
| Autoignition temperature of each material | Surface burning index |
| --- | --- |
| | |
| Oxygen index of each material | Flash-ignition temperature of each material |
| | |
* Source: Technical information from the Resin Siding Promotion Committee.
Fire prevention rules and regulations
The exterior walls of buildings are regulated by the Building Standards Law to prevent the spread of fire. Therefore, please check the product range of use on the chart below when you use ZEON Siding in new house construction. In principle, use of ZEON Siding is not a problem in remodeling except for the following two cases: (1) an application for building confirmation is required for significant remodeling including removal of existing exterior walls; and (2) restrictions are imposed in accordance with local regulations or the fire defense law, etc. We recommend that you consult with a building official in your area for precaution's sake.
Rules and regulations for exterior walls by area, size and use (as of May 1, 2004).
District stipulated by Article 22 (equivalent to earthen wall)/ Fire Protection Certification Number
Certification Number (1) QP020BE-9113

(Slag gypsum board 11mm base)
Certification Number (2) QP020BE-0032

(Gypsum board 12.5mm base)
Quasi Fire Preventive District[/ Fire Protection Certification Number
Certification Number (1) PC030BE-0038

(Substrate with added outside insulation of rock wool board/ 25mm)
Certification Number (2) PC030BE-0676

(Substrate with added insulation of phenol foam thermal insulation board/ Conventional wooden framework method)
Certification Number (3) PC030BE-0677

(Substrate with added insulation of phenol foam thermal insulation board/ Wooden 2¡ß4 Method)
Certification Number (4) PC030BE-0707

(Phenol type outside insulation method, Wooden 2¡ß4 method)
---