Imaging & Information Material Products
ZEON AL Sheet


ZEON AL Sheet is an innovative non-glue adhesive sheet. Instead of adopting the adhesive property of glue, it sticks to an object with a suction cup effect that discharges air bubbles. This makes it easy to attach and take off neatly, while offering the convenience of repeated application and removal. ZEON AL Sheet is not only suitable for POP-related printed materials but can also be used as a protective sheet or non-slip sheet on parts trays and many other items, limited only by your imagination!


Adheres firmly
Firmly adheres to almost every flat, smooth surface
Clean surface
after removal
No residue on the object surface after removed,
since no tacky agent is used
Clean and easy
Neatly and easily attached without wrinkles or air
bubbles
Use with various
printing systems
Can be used with various printing systems, including
ink-jet, screen, or offset
Eco-friendly
Made of eco-friendly acrylic resin

Use ZEON AL Sheet for:
POP-related printed materials, indoor sign displays, event settings, campaign bulletin boards, wall art, advertising in trains or buses, instructional materials, whiteboards, labels, illumination films, temporary store decorations, mousepads, stickers for product samples, and surface protective films.

In-store POP
displays

Product labels
Instructional
materials

Parts trays
Apply ZEON AL Sheet to:
Glass, acrylic, PVC, aluminum, ABS, polyester, polypropylene, polycarbonate, polystyrene, painted plywood, iron plates, coated mesh, color galvanized boards, induction heating equipment plates, Teflon-coated products, and other flat, smooth surfaces.
Note: Adhesive strength may increase over time when applied to some resin boards.

Fine cells in the adhesion layer act as suction cups, allowing for attachment of the sheet on various materials and surfaces, which will remain clean after the sheet has been removed, since no tacky agent is used.

The sheet is easy to remove even after adhesive strength has increased over time. No residual resin is left on the object after removal for up to one year of application.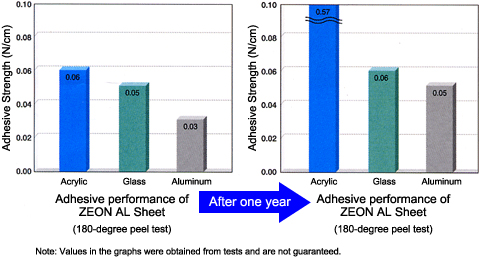 ---